Air Quality
Air quality is essential for health and well-being. Airborne particles and dust can pose harmful health threats along with short and long term health problems. In addition to personal health, combustible dust is also worrisome. Dust particles in many shops, warehouses and factories are often times flammable posing a potentially fatal danger. To help avoid and prevent these risks dust collecting systems are a necessity and certain standards are in place as a safeguard from tragic accidents. There are a variety of dust collectors available for all factory, warehouse and shop sizes. However, portable dust collectors are particularly important and have a range of collection methods.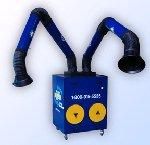 Photo Courtesy of Ryvac Engineering Company
Safety should be a number one concern for industries. Therefore, standards must be implemented in order to prevent health and fire hazards in the workplace. OSHA has some standards in place currently, but has not actively reviewed their standards in some time. However, OSHA released their latest regulatory agenda on December 21, 2012 with top issues that are to be addressed in 2013. Within these points of interest are combustible dust standards. Furthermore, in addition to OSHA standards many states adopt their own regulations to better ensure employee and plant safety. Companies also must consider the best dust collectors for their applications to comply with the current rules. There are multiple options when it comes to these devices. A company may want a huge system for their entire place of work or a more convenient portable dust collector. Mobile systems are able to adapt to any work area they are utilized in because of their flexibility.
Moreover, one of the best preventative measures to bad health conditions and fire is having portable dust collectors in the workplace. By removing these dust particles from the air the workplace is a more desirable and a safe place to occupy. Dust collectors trap dust in primarily one of five ways: inertial separators, fabric filters, wet scrubbers, electrostatic precipitators and unit collectors. Within each type of collecting systems there are several variations to best suit a particular situation. Finally, some categories may fit certain dust collecting jobs better than others. Portable dust collectors are simply convenient and necessary for their maneuverability. They are able to be placed and removed in many situations regardless of the duration of the job then transported to the next point of interest. Their flexibility, durability and readiness prove their worth in a range of applications.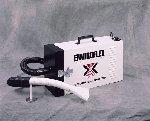 Photo Courtesy of Ryvac Engineering Company
Without proper air quality working conditions are not desirable. Luckily, dust collecting systems and portable dust collectors help improve undesirable conditions that meet many state and federal standards such as OSHA. As the standards and equipment improve, poor air quality conditions will be fewer and far in between. This will result in less health related and fire safety concerns. Choosing the correct safety precautions and right dust collector are essential to improve and maintain proper conditions. Does your workplace utilize a collection system or portable model? How has this affected your everyday working conditions?